Dr Harsh Vardhan, Union Minister of Health &Welfare has termed the sharp focus on health and wellbeing and their centre-staging in the Union Budget "visionary" and "revolutionary".
The Health Minister stated that "The Union Budget 2021-22 is a 'Bold Budget' and a 'Health Budget' where the allocation for the health and wellness sector has substantially jumped up. At the very outset, the Budget has acknowledged health and wellbeing as the topmost of the six fundamental pillars."
"The Union Budget 2021 has prominently positioned health along with the holistic sector of wellness as the prime mover of growth and development. It has also strongly depicted the deep commitment of the Government and its vision towards holistic health and wellbeing", he added.
The total allocation to Health Sector has increased to Rs. 2,23,846 cr from Rs. 94,452 cr the previous year (BE 2020-21), he pointed out.
| | | | |
| --- | --- | --- | --- |
| Ministry/Department | Actuals 2019-20(in Rs crores) | BE2020-21 (in Rs crores) | BE2021-22 (in Rs crores) |
| D/o Health & Family Welfare | 62,397 | 65,012 | 71,269 |
| D/o Health Research | 1,934 | 2,100 | 2,663 |
| M/o AYUSH | 1,784 | 2,122 | 2,970 |
| CoVID related Special Provisions | | | |
| Vaccination | | | 35,000 |
| D/o Drinking Water & Sanitation | 18,264 | 21,518 | 60,030 |
| Nutrition | 1,880 | 3,700 | 2,700 |
| FC Grants for Water and Sanitation | | | 36,022 |
| FC Grants for Health | | | 13,192 |
| TOTAL | 86,259 | 94,452 | 2,23,846 |
The huge escalation in the budget allocation for health and wellbeing firmly depicts the consistently increasing trend in the budgetary allocation and expenditure in the health sector, Dr Harsh Vardhan stated. Several people-centric initiatives launched by our visionary Prime Minister Shri Narendra Modi ji during the last six years have established the vision and commitment of the government towards holistic health and wellness, he further explained.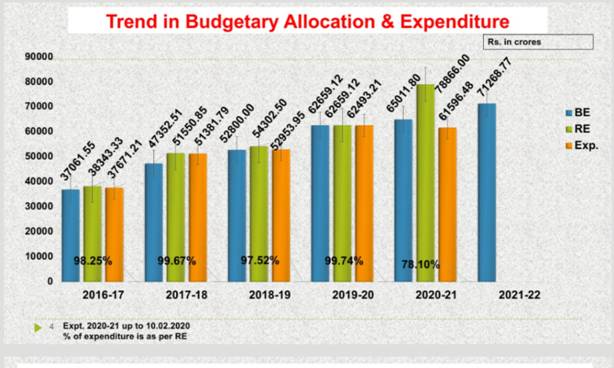 "Sturdy and resilient health systems of any country are built on strong health infrastructure of primary, secondary and tertiary tiers supported by equally strong institutions of diseases detection and surveillance, teamed with R&D institutions providing world-class cutting edge research-derived evidence to drive policies and actions",  Dr Harsh Vardhan said.
With an outlay of Rs. 64,180 crore over 6 years, the newly announced centrally sponsored Scheme PM AtmanirbharSwasth Bharat Yojanawill develop capacities of primary, secondary and tertiary care, strengthen delivery health care systems, develop institutions for detection & cure of new and emerging diseases and strengthen the existing National Health Mission independent of it, he stated."The scheme will strengthen 17000 rural and 11000 urban health and wellness centres, set up integrated public health labs in all districts and 3,382 block public health units in 11 States, establish critical care hospital blocks in 602 districts and 12 central institutions", the Union Health Minister added.
Dr Harsh Vardhan reminisced India's long battle with the global pandemic and the critical role played by the Public Health Institutions, Health Care workers, Front Lineworkers, journalists and all other stakeholders. "This year's Budget has been critically shaped by the global public health crisis posed by COVID19', he stated.
The PradhanMantriAtmaNirbharSwasthya Bharat Yojana will give a tremendous boost to India's public health infrastructure- the National Centre for Disease Control will now have 5 regional branches and 20 metropolitan health surveillance units. Along with the expansion of integrated health information portal to all States/UTs to connect all public health labs, 17 new public health units will be operationalised and 33 existing public health units at points of entry that is 32 airports, 11 seaports and 7 land crossings will be strengthened. The scheme will also support setting up of 15 health emergency operation centres and two mobile hospitals; a National Institution for 1 health regional research platform for WHOSouth East Asia region office; and 9 biosafety Level-III laboratories and 4 regional national institutes for virology.
Not only in the Union Budget 2021-22, but the Health Minister also pointed to the Government's commitment to strengthen the fight against COVID19 throughout the previous year through the consistent allocation of funds.
Sl. No.
Schemes/ Institutions
2020-21 (Rs in crores)
RE 2020-21
Actual Exp. up to 10.02.2021
1.
NRHM-COVID-19 Emergency Response and Health System Preparedness Package (EAC)
6937.96
6458.15
2.
Central procurement of Supplies & Materials for COVID-19 Pandemic
4724.00
3179.34
3.
National Centre for Disease Control
95.00
46.03
Total
11756.96
9683.52
4.
COVID-19 vaccination for health care worker and front line workers
360.00
Dr Harsh Vardhan emphasised that India's approach of being AtmaNirbhar can be seen in its response to COVID19 and its management.
"India has performed 20.67 Crore cumulative testing as of today. Our capacity for testing has increased to more than a million a day. Out of the 1.09 Cr who were infected with COVID19, 1.06 Cr people have recovered. India is now self-reliant in manufacturing of COVID -19 diagnostic commodities, enabling export of the surplus quantity", he said.
Speaking on the COVID19 trajectory, Dr Harsh Vardhan highlighted the progress in the COVID parameters. He said, "Though our COVID parameters are on a sustained decline, it should not create a misconception in the minds of people that the masks and physical distancing are not needed now. Even now, Social vaccine is as important as the real vaccine."
"We are working on at least 18 to 20 vaccines, which is at different stage right now, some of them are at the pre-clinical trial stage, some are at the clinical trial stage, some at phase 1 and some of them are at phase, some of them are at phase 3 stage and can be used for the public in next few months. India is exporting vaccines to many countries. We have exported hydroxychloroquine to more than 150 countries", Dr Harsh  Vardhan said.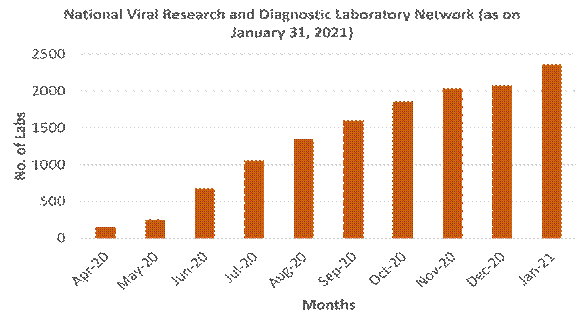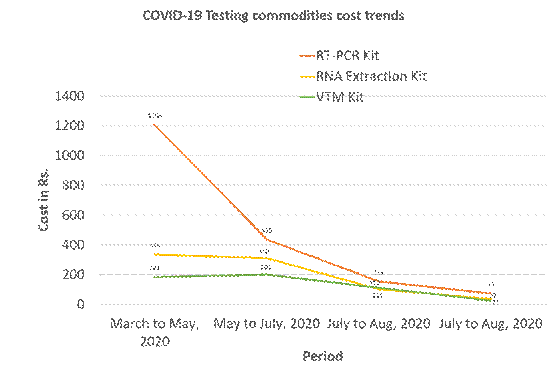 Dr Harsh Vardhan added that India has firmly positioned itself as the world leader in terms of COVID19 vaccines. With a budgetary boost of Rs. 35,000 crore, the country's fight against COVID19 has been strengthened. "India's leadership role is visible in its production capacity and also in the speed of vaccination. We have vaccinated more than 82 lakh beneficiaries till now", he stated.
With strong budgetary support, innovative schemes strengthened systems of health research and healthcare delivery, the Union Minister envisioned that India shall emerge as a world leader in public health setting examples to be emulated by other countries.