Mumbai, June 21
To mark the 7th International Day of Yoga, Nehru Science Centre in Worli, Mumbai organized a yoga demonstrations session in the morning. The Yoga instructor Kokane was invited from The Art of Living,  made the participants aware about Yoga and its benefits in a 45-minute session, from 7 am onwards, in accordance with Common Yoga Protocol given by AYUSH Ministry. The session mainly included Stretches, Asanas, Pranayama & Meditation,  with special emphasis on Yoga's benefits to common people on regular practice.  It was also told that continuous practice of these techniques helps in harmonizing body mind complex and increases our inner strength.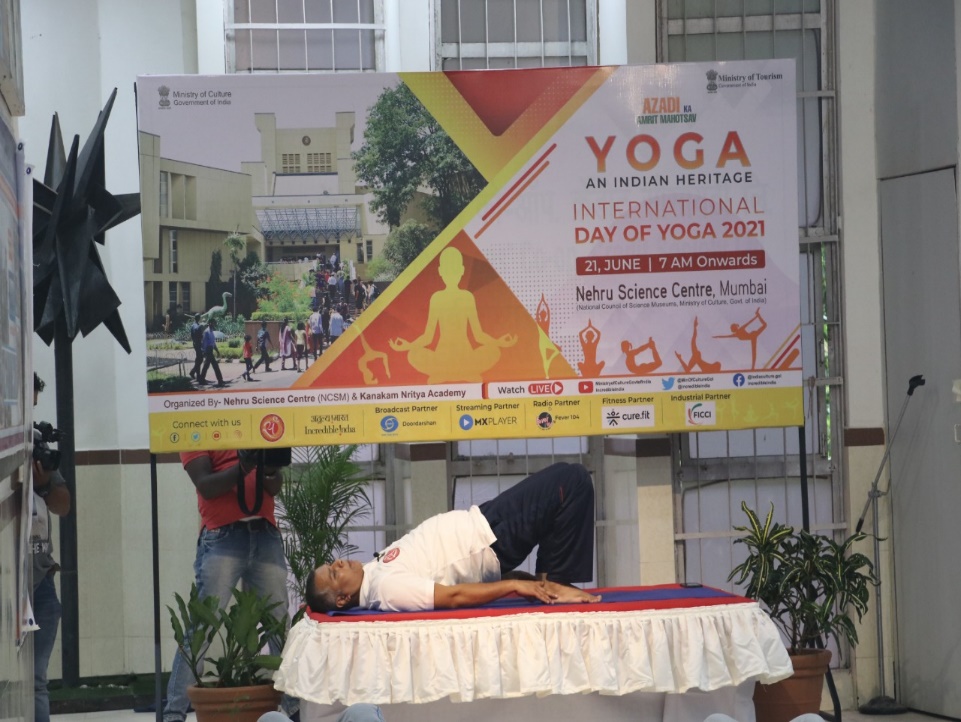 A cultural programme followed the yoga session, featuring dance from Saji Menon, the recipient of Ustad Bismillah Khan Yuva Puraskar by Central Sangeet Natak Akademy. Saji Menon, the senior disciple of renowned Mohoniattam exponent and pioneering dance educationist Guru Padmabhushan Dr Smt Kanak Rele, performed Mohiniyattam along with her troupe from the Kanakam Nritya Academy in Mumbai.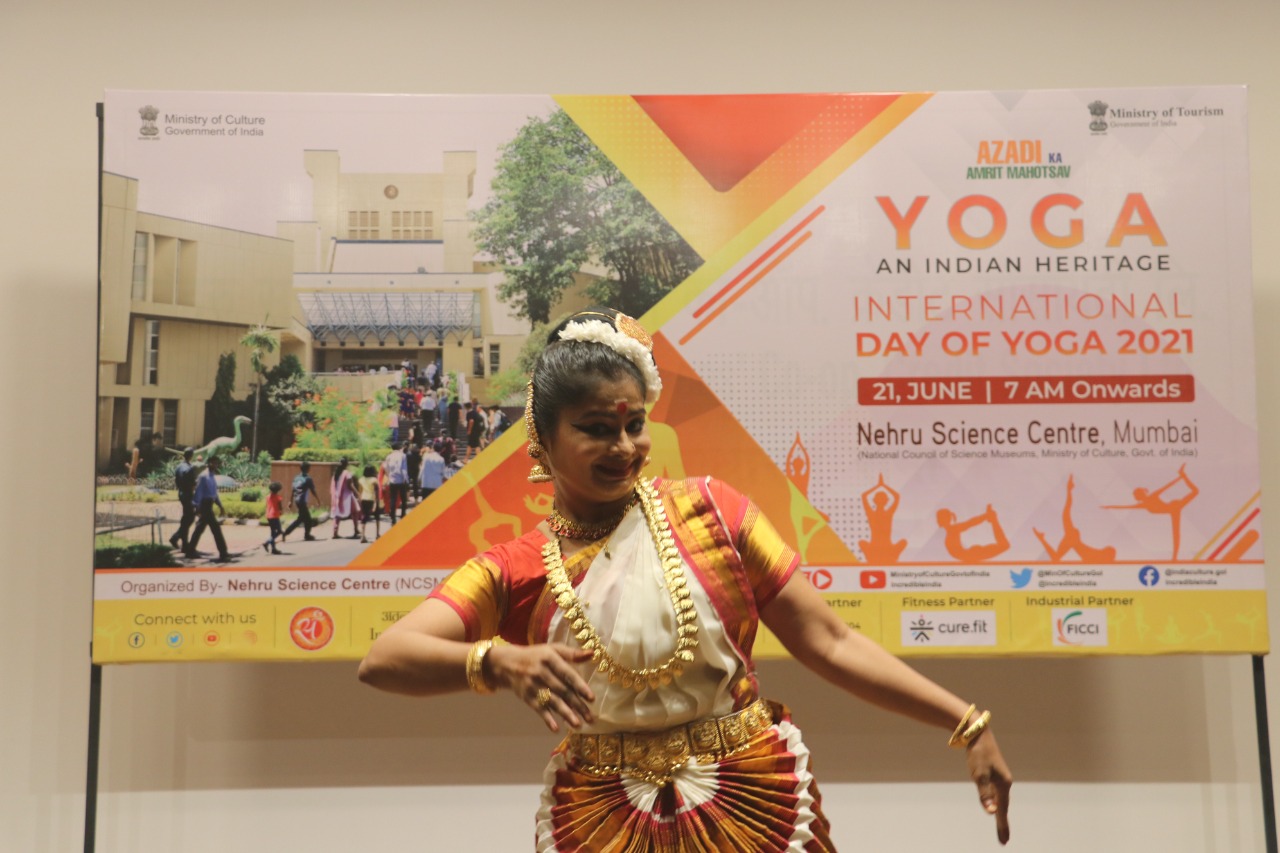 The Union Ministry of Culture is celebrating "International Day of Yoga" (lDY) today in the physical format under the umbrella 'Azadi ka Amrit Mahotsav' linking the Yoga Day with celebration of 75 years of India's Independence. As part of this commemoration, 45 minutes of Yoga demonstration sessions as per the Common Yoga Protocol (CYP) followed by a short cultural program of 30 minute were organized at 75 heritage sites. The various organisations under the Union Culture Ministry and Sangeet Natak Academy & Zonal Cultural Centres made all the arrangements. The Nehru Science Centre is West zone headquarters of Science Centres under National Council of Science Museums (NCSM), a premier organisation for science popularisation and enhancing public understanding and appreciation of science under the Union Culture Ministry. Nehru Science Centre made requisite arrangements for Yoga in physical format restricting to participation for 20 enthusiastic only owing to mandatory COVID restrictions and protocol. IDY was observed with a thematic message of #BeWithYogaBeAtHome.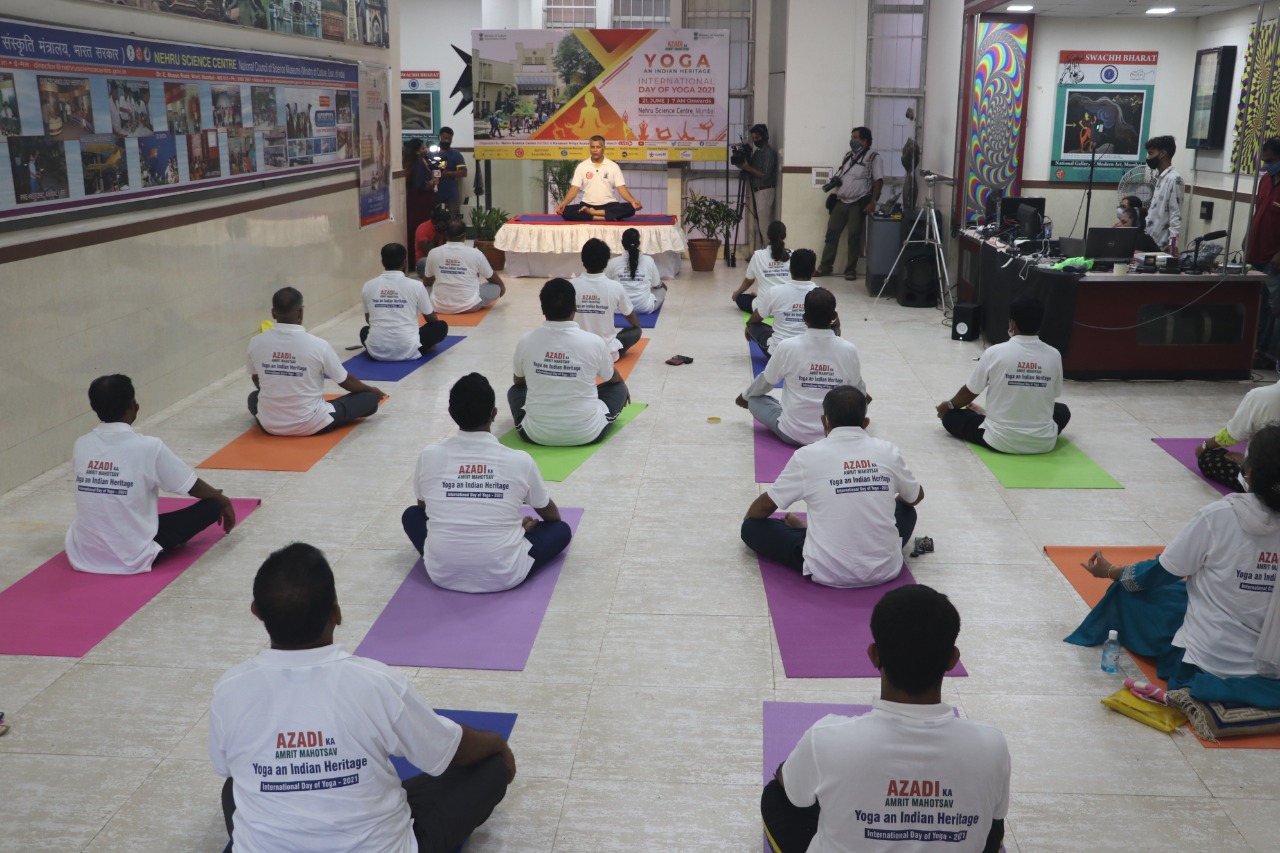 Further, Live streaming of the Yoga event from 30 selected sites was run on all the digital platforms of the Ministry of Culture as well as the organisations under its aegis. The same live streaming was also run on all the platforms /pages of Ministry's Media partners which include Doordarshan. Live Streaming was also done from Nehru Science Centre. Emphasis has been given to make extensive use of various digital platforms in order to spread awareness and increase the participation of people in this effort of public health. The main objective is to take the positive message of Yoga to all of our fellow countrymen in this period of distress.